Carolina Offseason Moves Graded: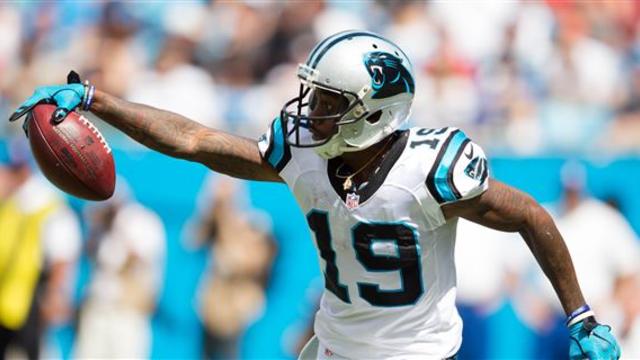 Pre Free Agency:
Franchised FB Jeremy Shockey for $4.7M
(B)
The good news is the Panthers got an elite tight end/fullback on a cheap deal. The bad news is he's not tradeable and his position cannot be changed back to TE. The jury is out on whether the Panthers' idiot head coach can utilize a FB properly.
Traded WR Jacoby Jones and Pick 3.13 to Buffalo for WR Ted Ginn, 2013 BUF 7th, 2014 BUF 7th
(B+)
While exploring Megatron trades, the Panthers knew they wanted to get another speedy receiver. While Ginn's hands may be lacking, he is one of the fastest players in the NFL and well worth the 3rd round pick given up here. Jones would be cut by the Bills for cap room.
Traded Pick 1.19 for 2014 OAK 1st, 2013 ATL 6th, 2014 OAK 7th
(B+)
Maybe the Panthers rushed their move-out trade when they could have gotten more value during the draft, but based on what was available, trading out appeared to be the right call.
Traded CB Antoine Cason to Buffalo for 2013 BUF 2nd
(A-)
This was a move to gain $6.6M in flexibility this year and a future pick next year. While Cason's blazing speed will be missed, the Carolina secondary is still in a pretty good place.
Traded DE Mike Peterson, Pick 7.21 to Tennessee for DE Marques Douglas, Pick 7.5, 2014 TEN 3rd, and 2013 TEN 7th
(C)
One could argue that the Panthers overvalued this third round pick, as Peterson is still a terrific defensive player. But he was getting up there in age, and the team planned to go heavily after defensive linemen and linebackers in the draft, so he wasn't likely to be in the team's future. Douglas was filler that would be cut.
Free Agency Signings Part 1:
Signed C Leonard Davis at $4M for 2 years
(A)
While old, Davis fits the mold of a Panthers lineman, tipping the scales at 375 pounds, and providing a big upgrade over last season's center Carl Nicks.
Signed RBs Darren McFadden and Matt Forte to identical $5M for 6 year contracts
(A+)
While it's weird to sign two of them, it's hard not to be happy about getting these elite running backs when the Panthers had none going into the summer. Forte figures to be the better physical specimen, quicker and stronger, while McFadden has better top end speed and hands. There will definitely be some experiments with these two.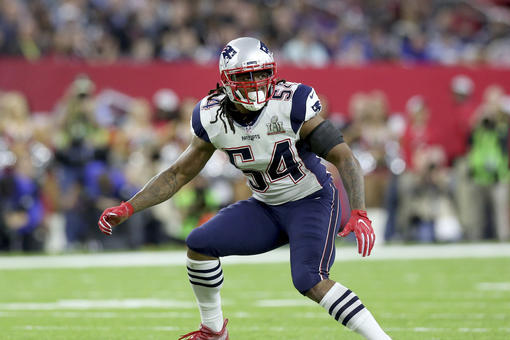 Draft Weekend:
Traded WR Calvin Johnson, Pick 1.21, Pick 4.21, 2013 CAR 4th to Atlanta for SS Antoine Bethea, DT Antonio Johnson, LB Dan Skuta, WR Harry Douglas, and Pick 1.3
(A)
The biggest move of them all, the Panthers break down the super talented (but very expensive) receiver into two very talented defensive players in Bethea and the 3rd overall draft pick. The downsides are that the other players in the deal were all cut for cap space, and that the Panthers just created a potentially lethal Brady-Megatron connection within their own division.
Drafted DE/LB Dont'a Hightower with Pick 1.3
(A-)
There is no denying Hightower will be a big time player in the CSFL. However, sneak peeks at the rookie class make DT Muhammad Wilkerson look like both the better player and better fit for the Panthers. With his incredible blend of speed and tackling ability, Hightower will do his very best to put that talk to bed and make Panthers fans shut up about Wilkerson.
Traded SS Jeff Tarpinian, 2013 CAR 3rd to Atlanta for Pick 1.21, 2014 ATL 4th
(A)
Managing to trade right back for the 21st pick, the Panthers parted with Tarpinian, a multitalented defender who was suddenly pushed down the depth chart following the trade for Bethea. This was unequivocally good value for Tarpinian, who was picked at the top of the 3rd round last year, and was slated to be a backup this year.
Drafted DE/LB Jabaal Sheard with Pick 1.21
(C-)
While the trade looked solid, it probably wound up being net neutral by picking Sheard. At first glance, Sheard appears to be a tweener not quite suited for either the DE or LB positions, and he also appears to have a sour attitude and weak work ethic. Sheard is a talented prospect, but will need to be figured out. There were better players on the board, and at the time, this was expected to be the Panthers' last pick until the 6th round.
Traded CB Jonathan Wilhite, K David Buehler to Atlanta for Pick 4.15, Pick 6.16, and 2014 ATL 6th
(D+)
In hindsight, it's safe to say the Panthers sold too cheap on a speedy corner. Pick 4.15 wouldn't wind up yielding much.
Drafted DE Eric Latimore with Pick 4.15
(D-)
This pick didn't go any better than the trade to get it. Latimore looks to be a fringe player who the Panthers can only hope will improve over time.... Wait he's already 25. At least he can run?
Traded cap space to Kansas City for DT Shaun Smith
(D)
This seemed like a good idea, but it should have waited. The Panthers would change their mind and eventually opt to cut Smith for the extra cap space ahead of FA period 2, effectively wasting $200k on nothing.
Traded SS Donnie Nickey, Pick 6.16 to Buffalo for DT Markus Kuhn, Pick 7.1
(B)
Nothing fancy, the Panthers swapped a deep rotation player for another, but at a position of need, and without giving up cap space this time.
Traded 2014 CAR 4th to Baltimore for Pick 5.1
(C)
If you see someone available at the top of the 5th, that you would've taken with a 3rd or 4th, then cool, trade a future hopefully late 4th...
Drafted DE Zane Parr with Pick 5.1
(C-)
...Unless you draft a guy that really should've gone in the 5th or 6th round. Parr does not look bad, but aside from being pretty agile, nothing about him stands out. The Panthers will be firing at least one scout next year.
Traded Pick 6.26 to Tennessee for Picks 7.21, 7.30, and 7.32
(A)
It's all a crapshoot down here, so three cracks at a decent prospect is better than one. The Panthers needed depth all over the place, and the 7th round ended up looking way better for the Panthers. More on that later.
Traded Pick 7.13 to Tampa Bay for 2014 TB 7th
(C)
Who cares really. The Panthers had 7 picks in this round, and could afford to push one off.
The 7th Round
(A+)
7.1: WR Armand Robinson
7.5: T Tony Bergstrom
7.8: Tori Gurley
7.21: CB Jeremy Lane
7.30: Jaiquawn Jarrett
7.32: Vic So'oto
Somehow, the Panthers managed to avoid a total bum on all 6 of their picks, landing two potential rotation WRs, and a capable backup T with the first three picks, then okay corner, safety, and DE with the three picks received from Tennessee.
Post Draft:
Traded C Carl Nicks, FB Matt Mulligan, DT Jonathan Fanene, CB Aaron Berry, FS Marcus Hudson, 2013 ATL 2nd, 2013 TEN 7th, 2014 ATL 4th to Indianapolis for DE Dwight Freeney, 2014 IND 3rd
(B+)
The Panthers stretch themselves dangerously thin, cutting down to just 35 players, but Dwight Freeney figures to complete a dangerously athletic DE/LB rotation in Carolina. His contract situation may cause some issues down the line, but the Panthers will cross that bridge when they get to it.
11 Late FA Signings for < $3M
(B)
LBs Moore, Posluszny, Davis, Greenwood, Johnson
DTs Muir, Balmer, Smith
WR Nelson
OL Bushrod, Barker
The Panthers missed out on most of their top targets, but signed some interesting talent for cheap 2 year deals and substantially bolstered their depth where they lacked it. LBs Moore and Posluszny and 2 of the 3 DTs figure to be rotation players, while Nelson is an intriguing receiver with incredible hands though he lacks foot speed.